Sue Winslow, PATH International Certified Therapeutic Horseback Riding Instructor, MA LIC. Instructor describes Mary's work as follows: "Mary has been giving Sports Massage and Reiki to the horses at T.H.E. FARM in Tewksbury for years. The horses know what she is offering them, and we see the results in horses that are still moving freely well into their twenties and even thirties with a positive attitude. She can find and address a potential problem area long before it manifests as a physical or behavioral issue, and her work keeps our therapy mounts healthy in mind and spirit. We are very grateful for all she does for these special horses."
Ray Hackett at New World Riding says "I have watched Mary's passion grow from a dream to reality. She possesses all the qualities that make for an incredible healer. Her desire to do good for all in need can be seen by the way the horses seek her attention. She has helped me as much as every horse she has poured her talents into. Mary is truly a gift. I look forward to seeing all the good that she will bring forth into our futures and see her teaching every step of the way. It has been great to watch her special dream and life purpose come to fantastic fruition!"
A photo in the Lowell Sun on May 15, 2010 shows Mary at work at T.H.E. FARM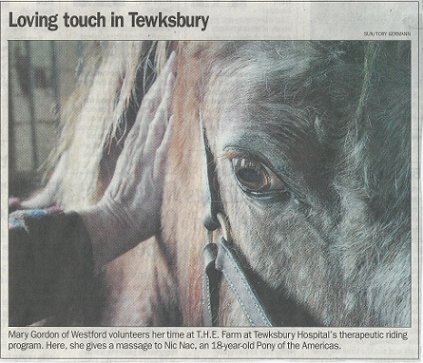 A description of Mary's work also appears in the feature article, "A Fulfilling Career," in Equine Journal, January 2012. In excerpts from that article:
"Mary Gordon of Westford, Massachusetts, has always been interested in mind/body integration."
"With equine massage, horses often move their bodies to position my hands where they are hurting."
"By carefully observing the horse's body language and feeling its energy, I am able to give each horse what it needs."